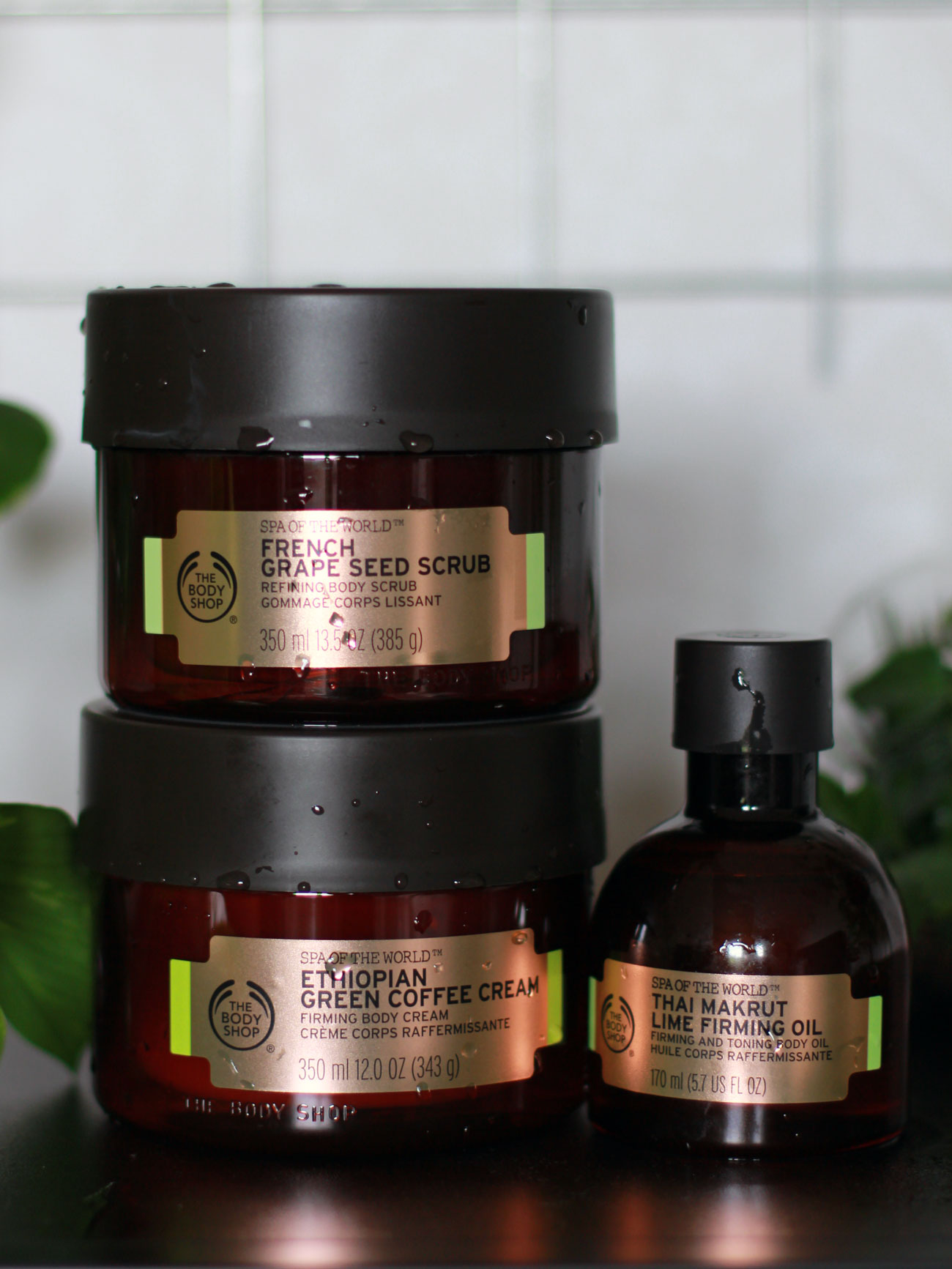 För ett tag sedan fick jag hem pressprover på ett gäng produkter ur The Body Shops Spa Of The World-serie och då lite produktnyheter i form av Ethiopian Green Coffee Cream, French Grape Seed Scrub och Thai Makrut Lime Firming Oil som tillsammans bildar Firming Ritual.  Jag har mer eller mindre lagt undan alla de andra produkterna jag använde innan dessa och kör på dem hela tiden. Detta är en produktserier som ska göra huden fastare, smidigare och vara uppfriskande. Helt ärligt har jag inte funderat tre sekunder på det där med firming för jag har då aldrig sett en sådan produkt som fungerar på något wow-sätt, däremot innehåller dessa koffein och polyfenoler som ska fungera uppstramande så lite gör de nog allt. Jag bedömer dessa istället som "vanliga" hudvårdsprodukter och jag älskar allihopa!
En härlig, lite småsegt krämig skrubbkräm som är precis lagom rivig. Detta är liksom inte någon arg skrubb som lämnar dig röd som en tomat utan snarare en skrubb som jag tror huden skulle palla varje dag. French Grape Seed Scrub skrubbar med hjälp av ekologiskt socker som är Community Trade-producerat, snällt för miljö och människor helt enkelt. Doftar helt underbart, är tokig i doften! Pris ligger på 295 kr/350 ml.
Min favorit i gänget! Allt med den här produkten är magiskt – doften, känslan, konsistensen, resultatet. Huden blir mjuk och smidig, inte ett dugg kletig och doftar riktigt uppfriskande. Kan tycka det är en aning missvisande att kalla detta "cream" för den är snarare något mitt emellan en lotion och en kräm. Innehåller ekologiskt etiopiskt grönt kaffe, men doftar inte en uns av kaffe utan bara av en grön fräschhet. 10 poäng till The Body Shop Ethiopian Green Coffee Cream. Denna vill jag alltid ha hemma. Pris: 325 kr/350 ml
En SuperFräsch Olja TM som doftar av lime och snabbt går in i huden. Används (enligt mig) bäst på blöt hud då det är lättare att massera in en rimlig mängd då. Huden blir otroligt len och får ett härligt glow. Känns absolut inte kletig – så länge du inte överdoserar. Först var jag lite tveksam till förpackningen, men den fungerar otroligt mycket bättre än jag trodde och är lätt att dosera. Thai Makrut Lime Firming Oil är en produkt som alla oljeälskare bör gå och klämma på. Pris ligger på 225 kr/ 170 ml
All over all tycker jag att hela The Body Shop Spa Of The World Firming Ritual-serien är jättehärlig och alla produkterna känns rättfärdigade. Jag brukar ofta känna att någon produkt känns överflödig, undermålig eller liknande, men här håller allt hög kvalitet och alla produkter hade varit välkomna tillbaka när de är slut. Ska du bara testa en produkt är det utan tvekan Ethiopian Green Coffee Cream som även finns i en liten förpackning om 50 ml.  Har du testat någon av dessa produkter? Vad tyckte du?
Samtliga produkter är 100% veganska och inte djurtestade. Finns i butik nu.
*Pressprov
https://spindelsven.com/wp-content/uploads/2021/02/crueltyfree-beauty-logo.png
0
0
Ida
https://spindelsven.com/wp-content/uploads/2021/02/crueltyfree-beauty-logo.png
Ida
2017-08-03 17:20:37
2017-08-03 17:20:37
The Body Shop Spa Of The World Firming Ritual