Björn Axén The Legacy är en produktserie som de beskriver som deras Rolls Royce. Samtliga av deras produkter är maxade med proteiner för att stärka håret, i detta fall i form av vad de kallar för Björn Axén Hairprotein Complex. Hairprotein Complex är en proteinblandning som ska ge ett starkt, fylligt hår, ge fukt, glans, skydda och bygga upp. Lite allt möjligt egentligen. Förutom detta innehåller samtliga produkter massa göttiga oljor.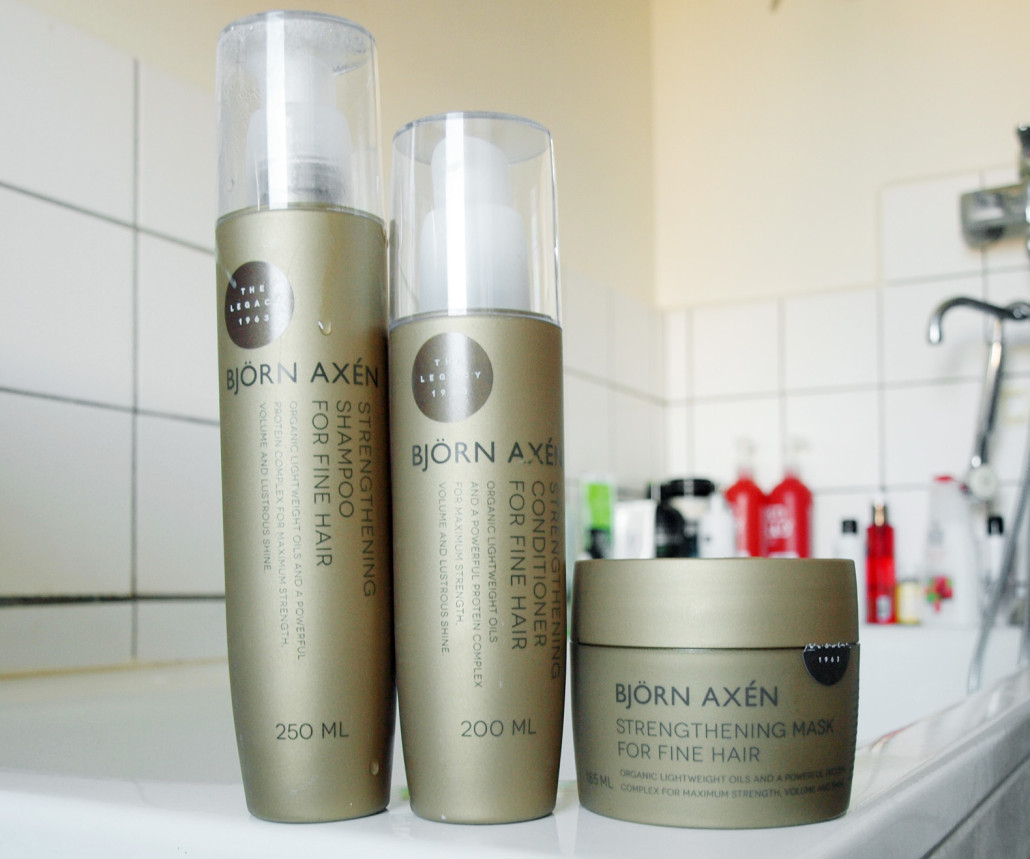 Jag fick möjligheten att prova deras schampo, balsam och inpackning ut Legacy-serien som ska passa ett fint hår. Såhär är det, att jag tror inte riktigt att dessa produkter passar min hårtyp – tyvärr, för jag har hört att det är andra som älskar dem! Kanske hade kommit bättre överens med deras serie för grövre hår.
Mitt hår består av många fina hår, men som ändå tål en del. Jag har ganska mycket självfall och mitt hår är åt det torrare hållet (förmodligen pga att jag gärna leker med hårfärg) och det trasslar sig ganska lätt. När jag använder denna serie upplever jag att håret trasslar sig lite mer än vanligt och dessutom ser lite matt och fluffigt ut, vilket jag absolut inte gillar. Dock tror jag att någon med tunt, väldigt halt och rakt hår skulle dyrka dessa produkter eftersom de ger bra med volym och förmodligen gör det hala håret mycket lättare att styla.
Björn Axén The Legacy Stregthening Shampoo For Fine Hair
Skön konsistens på produkten, dryg, milt lödder och rengör ganska bra. Doften kommer jag inte alls överens med då min hjärna översätter rosdoften till en riktigt stinkig snusdoft. Gillar du ros kommer du älska doften.
Betyg: 2/5
Pris: 260 kr/250 ml
Björn Axén The Legacy Stregthening Conditioner For Fine Hair
Mjukt balsam med skön smetig formula. Inte jättedrygt. Lika så här har jag lite doftissues, tycker balsamet luktar trolldeg och lakrits? Lakritsen inte mig emot, men trolldeg känns inte så sexigt.
Betyg: 3/5
Pris: 260 kr/200 ml
Björn Axén The Legacy Stregthening Hair Mask For Fine Hair
Detta är enligt mig den bästa produkten av dem tre som dessutom känns riktigt prisvärd. Håret blir lent, mjukt och känns välmående. Produkten är lätt att fördela, dryg och luktar faktiskt riktigt gott (varför kunde inte de andra produkterna lukta lika mysigt?). Denna har jag gärna stående i duschen då den verkligen jobbar återuppbyggande.
Betyg: 4/5
Pris: 360 kr/185 ml
Sammantaget ger jag Björn Axén The Legacy For Fine Hair 3/5. Hade dofterna varit bättre hade betyget förmodligen blivit högre.
https://spindelsven.com/wp-content/uploads/2021/02/crueltyfree-beauty-logo.png
0
0
Ida
https://spindelsven.com/wp-content/uploads/2021/02/crueltyfree-beauty-logo.png
Ida
2015-03-05 18:19:59
2017-02-13 20:46:43
Björn Axén The Legacy For Fine Hair