För rätt längesen satt jag och Viola och skojade om olika roliga corpse paints, varav en som gav rätt mycket fniss var en glittrig corpse paint. For the shits and giggles så tog jag tag i det. Här har ni något som fick mig att fnissa rätt ordentligt. Kanske ska berätta lite om min relation till metal, för det kan förklara lite varför jag tycker detta är så underhållande.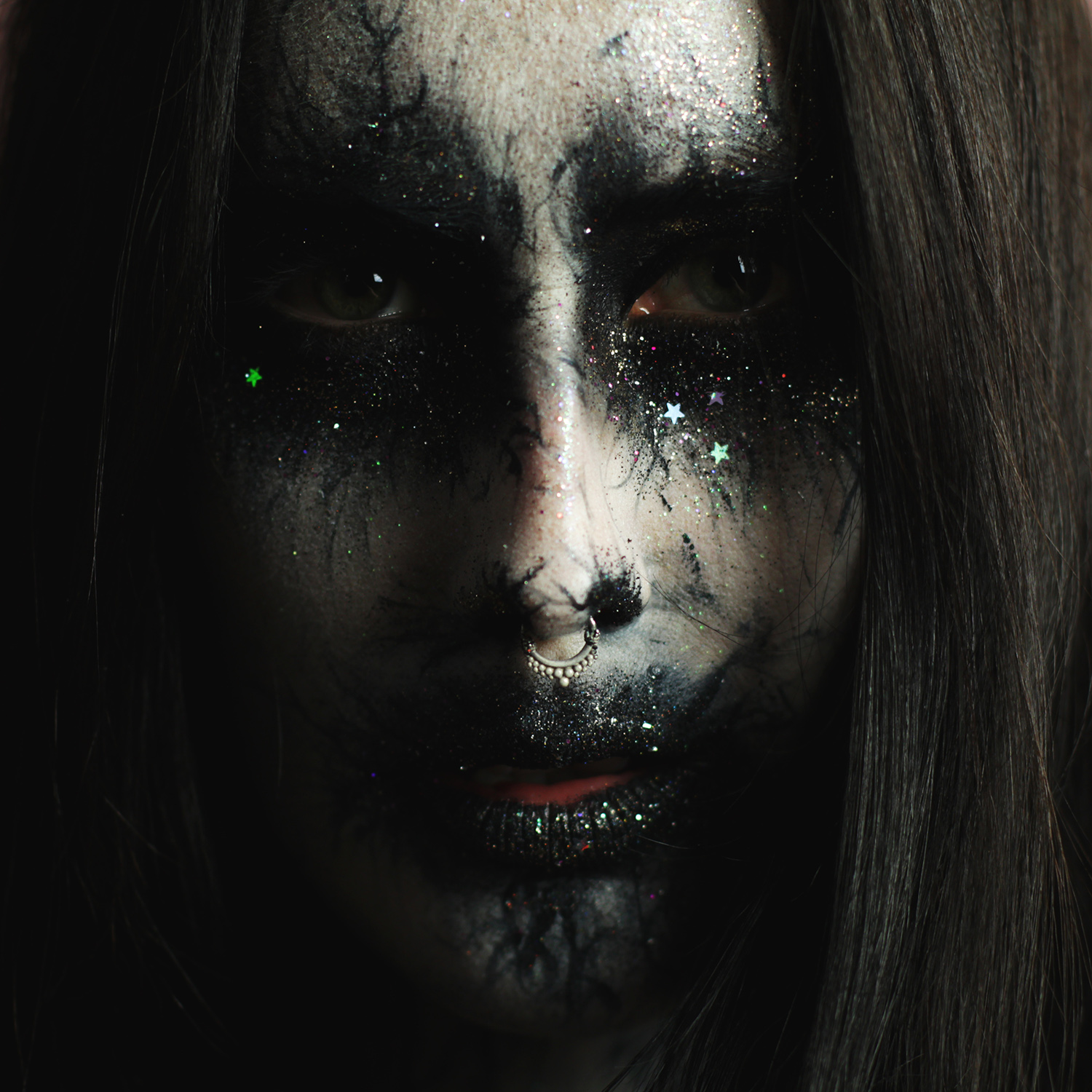 I tonåren var jag som de flesta andra – otroligt förvirrad och pinsam. Ni vet, man sökte sin identitet. Det jag lyssnade på i mina yngre år var typ Silverchair och Kent varvat med sånt man lyssnade på, typ Aqua, Britney osv. Runt mig fanns människor som lyssnade på Metallica och Nirvana (så kliché för 90-talsmän) så det gillade jag också. När jag sedan letade mig upp i högstadiet hade min bror börjat lyssna på olika former av metal och vissa gillade även jag. Nightwish, Dream Theater och Sonata Arctica spelades frekvent….
Jag uppskattar att många musiker som spelar i metalband ofta är otroligt duktiga, men whats up med att försöka vara så cool och läskig så det blir töntigt? Det är här jag får fniss. Jag ÄLSKAR och HATAR att inom vissa former av metal anstränger man sig så mycket för att vara läskig, hård och tuff att det blir till ett skrattanfall. De går liksom över den där gränsen som man "inte får" och det gör mig både arg och fnissig. Ibland när sambon lyssnar på framför allt svensk metal blir jag så arg att jag måste stänga av det han lyssnar på.

Så tänk nu, att på mitt nylle sitter något jag gillar, något jag stör ihjäl mig på, något jag fnissar åt och något "alla killar tycker är tufft" – och så har jag pissat på det genom att täcka det med glitter. Jag mår så bra.
Huvudprodukter i denna makeup:
Färg Collection Creative Color – Vit
Nabla Cosmetics Dreamy Matte Liquid Lipstick – Black Champagne
Lit Cosmetics Rhinestone Cowboy, You're A Star
Linda Hallberg Cosmetics Infinity Glass, Infinity Palette – Fornax
https://spindelsven.com/wp-content/uploads/2021/02/crueltyfree-beauty-logo.png
0
0
Ida
https://spindelsven.com/wp-content/uploads/2021/02/crueltyfree-beauty-logo.png
Ida
2018-09-21 10:05:46
2018-09-21 10:05:46
Makeuplook: Glitter Corpse Paint