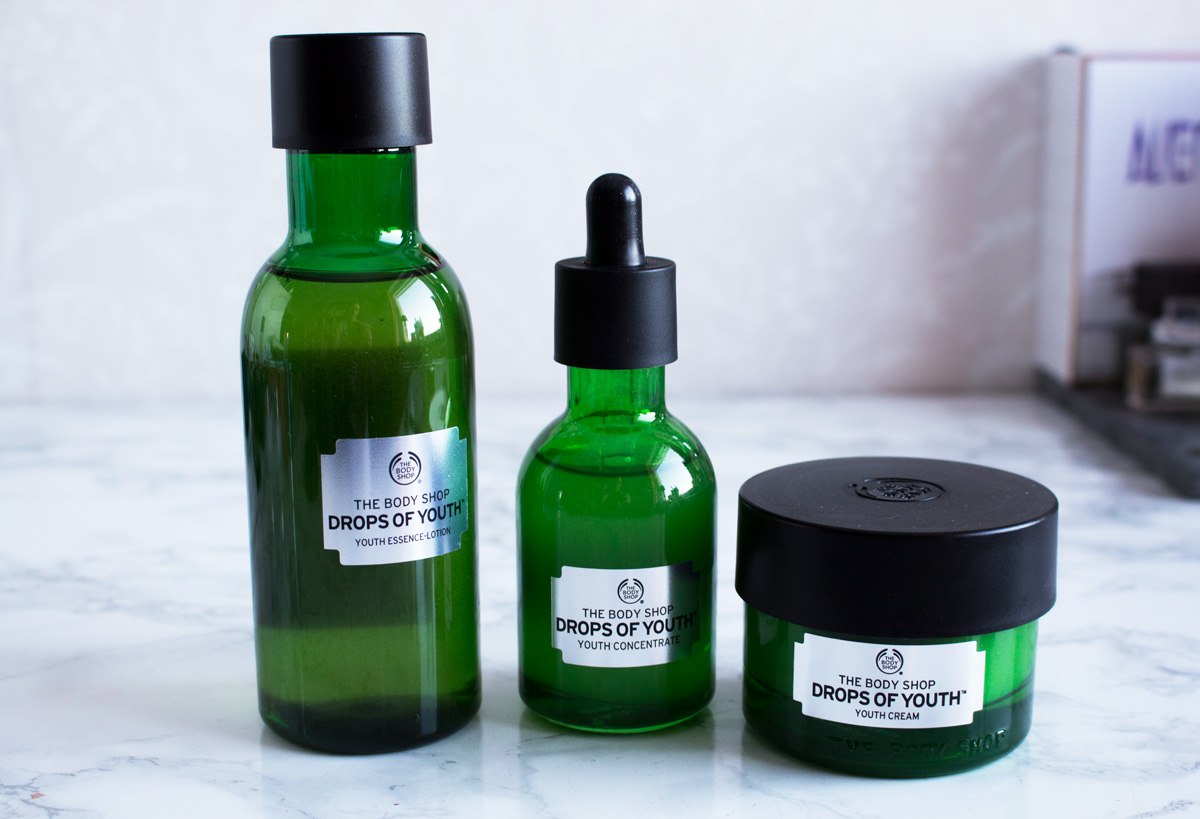 Alldeles nyligen släppte The Body Shop några tillskott i sin serie Drops of Youth, där bland annat deras bästsäljande serum The Body Shop Drops of Youth Concentrate ingår. Produkterna som tillkommit är Youth Essence Lotion och Youth Cream. En vän till mig hade fått dessa men langade över dem till mig då hon inte för närvarande varit sugen på att testa någon ny hudvård, men också eftersom jag total älskar Eye Concentrate ur samma serie. Just eftersom jag är så himla förtjust i ögonserumet ur denna serie var jag väldigt pepp på att testa produkterna, men jag känner att jag har fått lite blandade känslor av produkterna.
The Body Shop Drops of Youth – Youth Essence Lotion ska användas efter ansiktsvätt och ansiktsvatten, men innan serum och ansiktskräm. Vad jag förstår ska denna produkt verka förberedande inför serum osv och appliceras antingen med en bomullsrondell eller fingrarna, jag föredrar det sistnämnda. Om jag ska vara ärlig är jag lite förvirrad på vad produkten egentligen gör, vad gör egentligen Youth Essence Lotion? Med detta sagt tycker jag ändå att det är en härlig produkt som känns bra på huden, men jag är osäker på om den ytterst minimala effekt jag kan märka är värd ett extra steg i hudvårdsrutinen.
Pris: 225 kr/160 ml
The Body Shop Drops of Youth – Youth Concentrate är ett serum som är suuuuuperpoppis världen över, det säljs tydligen en flaska var 23e sekund vilket är helt vansinnigt! Jag har absolut inget negativt alls att säga om Youth Concentrate, men jag är inte heller helt överväldigad. Det är ungefär lika bra som andra liknande serum i samma prisklass, så i detta fall är det nog bara en smaksak huruvida du kommer älska eller ej. Konsistensen är ganska tjock, men serumet går fort in i huden. All over all ett bra serum som absolut är värt sina pengar.
Pris: 495 kr/50 ml
The Body Shop Drops of Youth – Youth Cream är det svarta fåret i familjen. Dels hatar jag faktumet att produkten ligger i burk, pallar inte riktigt hålla på med spatlar osv, men också att produkten är bombad med alkohol. Efter att jag hade testat Youth Cream i ca två veckor märkte jag att jag fick lite torra fläckar på kinden och började undra lite, detta har hänt en gång förut när jag testade en annan hudvårdsserie och det slutade med att jag hade stora torra fläckar runt ögon och näsa, och den gemensamma nämnaren i dessa fall stavas alkohol. Jag slutade så klart använda produkten efter jag insåg detta.
Konsistensen på Youth Cream är som hårt vispad grädde, mysig, men den är ganska lätt och torkar fort och jag tycker inte att den känns tillräckligt återfuktande eller fet. Skulle du råka överdosera något, så rullar krämen av huden när man sminkar sig, vilket jag haaaaataaaaar. Är det någon mer än jag som kan dissa en ansiktskräm enkom av den anledningen?
Pris: 325 kr/50 ml
Summering: Köp gärna Youth Concentrate, om du är nyfiken så testa Youth Essence Lotion, men skit i Youth Cream – det finns bättre ansiktskrämer till lägre priser.
The Body Shop testar inte på djur.
https://spindelsven.com/wp-content/uploads/2021/02/crueltyfree-beauty-logo.png
0
0
Ida
https://spindelsven.com/wp-content/uploads/2021/02/crueltyfree-beauty-logo.png
Ida
2016-01-24 20:56:47
2016-01-24 20:56:47
Recension: The Body Shop Drops of Youth